Happy New Year! Here's to a happy, healthy, and joyful 2018!
Welcome to our new monthly newsletter. Our hope is to use this newsletter to show you what were are working as well as entertain you with tales of our travel adventures. As a bonus we intend to add a recipe of the month to each newsletter (Just because we love to cook). We are also excited about the new items for sale. In addition to our wall art and home decor available on Fine Art America. You can now also purchase photo novelty items, like mugs, t-shirts, yoga mats, and so much more. We also have several digital art projects that we are working on for the upcoming year. Some of the things we are working on are, digital art showcasing Arizona, Toronto, Iceland, as well as unique composite art.
One of our most recent pieces of digital art is "The Princess". This photo was taken in the lower Antelope Canyon which is located on the Navajo Reservation near the town of Page Arizona. The canyon is about a four hour drive from Phoenix and about a two hour drive from the Grand Canyon National Park (I went with Detours tour company out of Phoenix, thank you to my guide Mark). Westwind will fly you into Page via a charter plane and then take you on a guided tour on the ground. Antelope Canyon is a narrow slot canyon which you descend down into via metal ladders and steps. All of the tours of the Canyon are run by Navajo tour companies with local Navajo guides (We used Ken's Tour, thank you to my guide Tim). Antelope Canyon is one of nature's great wonders, the colors and shapes of the narrow canyon walls are dazzling. As a photographer, it was really fun to shoot photos in the canyon and also a unique challenge. The Navajo don't allow the use of flash and tripods are only allowed on special photo tours of the canyon. The sun light that filters down into the canyon changes around every corner. For this trip, I was using a Canon 5d MK II with a 27-70 f/2.8 lens. I used manual mode at ISO 6400 and kept my shutter speed at 1/60th of a second so I could shoot hand held. I rotated my aperture between f/4.0 and f/11 dependent upon the lighting condition. The other challenge was capturing the canyon's unique beauty. Finding the best composition that showed the curves, color, and shadows of the canyon walls was a lot of fun. My only complaint is I couldn't stay there longer. It was a great experience, which I recommend to everyone.
Our January recipe of the month is the Taco Crescent Ring. This recipe combines two things I love to eat, Pillsbury crescent rolls and tacos. I've made this twice and both times it was great. I like to serve mine with salsa and sour cream. I got this recipe from the Pillsbury website. https://www.pillsbury.com/recipes/taco-crescent-ring/a52fade5-13ce-483a-b1d6-55c22aeb5c5a
Prep
20 MIN
Total
45 MIN
Ingredients
5
Servings
8
Ingredients
1 lb ground beef
1 package (1 oz) Old El Paso™ taco seasoning mix
1 cup shredded Cheddar cheese (4 oz)
2 cans (8 oz each) Pillsbury™ refrigerated crescent dinner rolls
Shredded lettuce, chopped tomatoes, sliced ripe olives, taco sauce or salsa, as desired
Steps
1
Heat oven to 375°F. In 10-inch nonstick skillet, cook beef until no longer pink. Add taco seasoning mix and 1/2 cup water. Simmer 3 to 4 minutes or until slightly thickened. In medium bowl, mix beef mixture and cheese.
2
Unroll both cans of dough; separate into 16 triangles. On ungreased large cookie sheet, arrange triangles in ring so short sides of triangles form a 5-inch circle in center. Dough will overlap. Dough ring should look like the sun.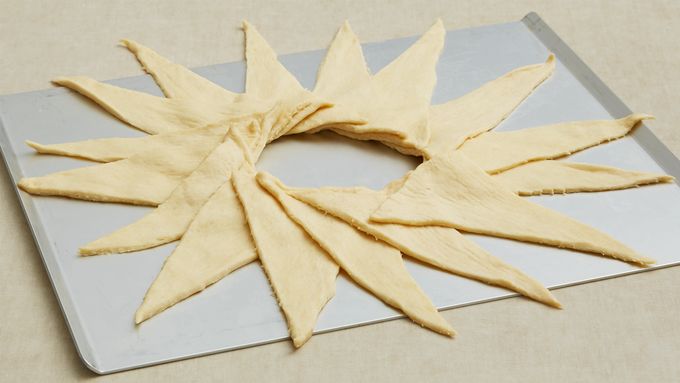 3
Spoon beef mixture on the half of each triangle closest to center of ring.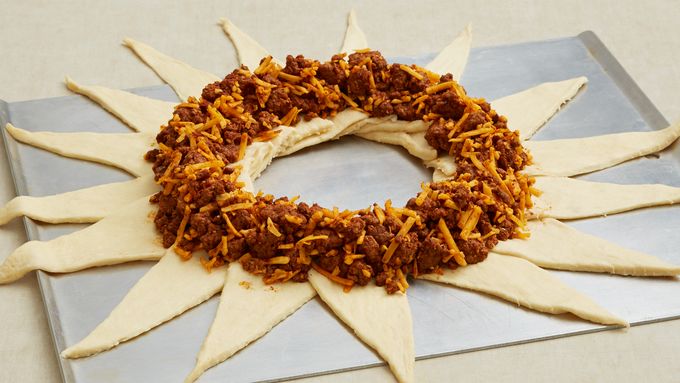 4
Bring each dough triangle up over filling, tucking dough under bottom layer of dough to secure it. Repeat around ring until entire filling is enclosed (some filling might show a little).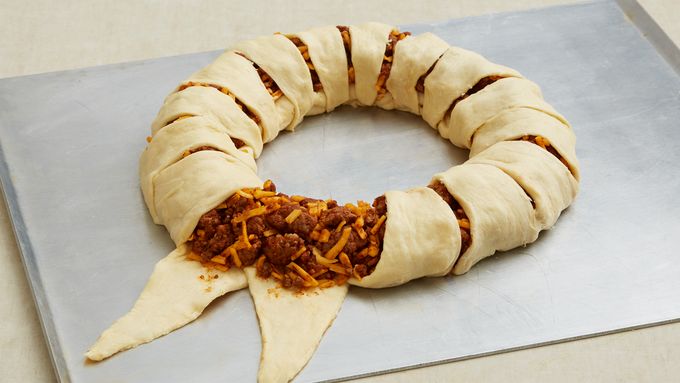 5
Bake 20 to 25 minutes or until dough is golden brown and thoroughly baked. Cool 5 to 10 minutes before cutting into serving slices.